Resources
Navigating UC San Diego can be challenging.  We're here to help!  General information is provided for you here.  You may also visit our office and learn more during a conversation with our Student Affairs staff who will provide all the details you need! 
What is a Dean's Certification?
Many graduate schools as well as professional organizations require a Dean's Certification to check your disciplinary records as well as your academic disciplinary history. Completion of a Dean's Certification form involves a check of your disciplinary records as well as your academic disciplinary history.
I need a Dean's Certification—how to I get one?
Please complete the personal information section the institution requires from you. To make every effort to process your forms quickly, follow the steps below and please plan ahead.

You will first need to obtain the Dean's Certification form from the school to which you are applying. Please send the Dean's Certification form, addressed stamped envelope and a completed cover letter which includes the following:

Your first and last name
Your UCSD Personal Identification Number (Student PID)
Approximate dates of attendance at UCSD
A daytime phone number or email address where you can be reached
Name and address of school for which the form is being completed
Your signature on the cover letter as well as the Dean's Certification form
Instructions regarding how you would like us to handle the form when completed

Some institutions require that the Dean's Certification form be sent directly to them as other institutions prefer that this form be sent back to you to mail in with the remaining application materials. All forms will be sealed in an envelope with a stamp/signature on the back. Your Dean's Certification will be processed within 7-10 business days from the date the request is received.

Submitting Multiple Requests
If you are submitting forms for multiple schools, it is not necessary to include a cover letter for each. Please simply list the names and addresses of the schools and provide instructions for each on a single cover letter, if possible.

Send Dean's Certification and Cover Letter to:
University of California, San Diego
Thurgood Marshall College, Student Affairs
9500 Gilman Drive #0509
La Jolla, CA 92093-0509

Or fax the required documents to 858-822-0783

Questions? Please contact the TMC Student Affairs Office at 858-534-4390 or email jmjenkins@ucsd.edu
Equipment Check-out
Any Marshall Student Org member or leader is able to reserve equipment (tables, chairs, speakers, etc) for events. In order to do so, you will need to complete the Marshall College Equipment Check Out form.

Submit form to Program Assistant at least 2 business days prior to your event. If approved, you will be notified and given instructions to pick up the items requested.

Equipment Check Out Form [PDF]

Quick Tips

You may submit the form to Chelsea, Program Assistant via email, to her office, or to her mailbox if she is unavailable.
Work with your org to ensure you request all items you will need in one form; multiple forms for the same event will not be accepted.
Submit forms earlier than later! Forms not received at least 2 business days prior to the event may not be approved
Questions? Please contact the TMC Student Affairs Office at 858-534-4390 or email Chelsea at clargoza@ucsd.edu.
Program Evaluation
All events and programs should be evaluated once they are complete to help others plan similar events and to improve upon then in the future.  Evaluation forms must be turned in before reimbursement for any event/program expenses may be processed.
Quick Tips

Here are a few steps that will ensure you will get a reimbursement following an event or program.

View the Program Evaluation Form prior to planning any events to ensure you know what to look for
Following the event, please complete this form as accurately as possible
Attach this form to your reimbursements and request approval from your Advisor
Once you have advisor approval, take all documents to the Executive Assistant's office and fill out the purple clip board located on the filing cabinet

Questions? Please contact the TMC Student Affairs Office at 858-534-4390 or email Chelsea at clargoza@ucsd.edu.


Reimbursement
You will be using the TMC Pre-Authorization Form if you need to pay for any event put on by your student organization. To make every effort to process your purchase orders or reimbursements quickly, please complete all the necessary sections of the form.

Pre-Authorization Reimbursement Form

How to process the TMC Pre-Authorization Form

Talk to your advisor about your plans to spend money
Talk to the vendor about the payment or purchase the items with your own money
Complete the TMC Pre-authorization form
Attach all original receipts and a copy of each receipt (make additional copies for your reference)
Bring all documents to Executive Assistant's office (room 102) and fill out the purple clip board located on the filing cabinet.
Wait 3-4 weeks to receive your reimbursement check!
If you have multiple receipts for one event you only need to complete one form
Never leave the forms or receipts in Executive Assistant's mailbox as it has your personal information on the form!
Talk to Executive Assistant about receiving Direct Deposit
Questions? Please contact the TMC Student Affairs Office at 858-534-4390 or email Jeanne at jmjenkins@ucsd.edu
Marshall Memos is Marshall's weekly newsletter that lists and Marshall and campus wide events happening during the week. They are sent to all registered Marshall students every Monday morning.
Want to submit your event to Marshall Memos?
If you are a member of a Marshall College or CSI registered organization and would like to submit an event for consideration in the weekly Marshall Memos, please send the following Information to clargoza@ucsd.edu:
Name of Event

Date of Event

Time/Location

Description of your event (200-300 words)

Link to website or facebook page for more info
All submission are due by Thursday at 4:00 pm the week before your event as Marshall Memos are sent out on Monday mornings (example: an event on Friday of Week 3 should be submitted no later than Thursday of Week 2).
2016-2017 TMC Student Planner/Handbook
The TMC Student Planner/Handbook is a quick guide to Marshall College's resources, staff, important dates, and more. Stop by the Student Affairs Office (in the TMC Admin Building) to pick up your FREE planner* today!
*While supplies last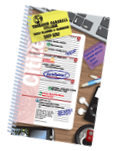 Academic Internship Program (AIP)

AIP offers students an opportunity to apply academic knowledge and analytical skills in professional settings while earning academic credit.

AIP Overview [PDF]
ArtPower!
ArtPower! builds creative experiences in music, dance, film, exhibition and food for our collective pleasure and inspiration. 

About Art Power! [PDF]
Black Student Union
The Black Student Union (BSU) is an open space for any UCSD student who supports and wants to learn about the Black community and empowerment not only at UCSD but worldwide.  The BSU focuses heavily on access and retention of Black students within the university, and promotes a fun, safe, and comfortable campus climate for all.
Center for Student Involvement
Visit the Center for Student Involvement to get involved in campus-wide student organizations, community service, and events.
Counseling & Psychological Services (CAPS)
CAPS is committed to promoting student mental health and well-being at an individual and organizational level, as well as the preservation and sustainability of an environment conducive to growth and lifelong learning.  The CAPS website contains a wealth of information and resources helpful to all students.



How To Help A Friend in Need

[PDF]
Commuter Student Services
Commuter Student Services provides students with information about off-campus housing, off-campus housing, the UC San Diego campus, and the surrounding neighborhoods and resource information about tenant rights and responsibilities and off campus housing workshops.



Commuter Student Services

[PDF]
International Center
The International Center (I-Center) promotes social, educational, and intercultural awareness, and provides support to international students and students, faculty, and staff who wish to study, intern or volunteer abroad. 
Lesbian Gay Bisexual Transgender Resource Center
Through programs, resources, research, outreach and advocacy, the Lesbian Gay Bisexual Transgender Resource Center creates an open, safe and inclusive space in which homophobia, biphobia, transphobia, heterosexism, and all forms of oppression are challenged. Inherent in the LGBT Resource Center's mission are the values of respect, pride and unity for all individuals.
Office of Academic Support and Instructional Services (OASIS)
OASIS offers the majority of the free tutoring on campus in a collaborative and supportive environment, emphasizing the social process of learning and diversity.
Office for Students with Disabilities (OSD)
The OSD works with students to determine reasonable accommodations for a wide variety of temporary and permanent disabilities.  The OSD recognizes the unique challenges that students with disabilities may face in and out of the classroom, and welcomes students to dialogue with professional staff in a safe, confidential environment.
Student Business Services (SBS)
SBS assists students through providing campus cards and managing student accounts through periodic usage statements. Additionally, they assist with financial aid disbursements and provide loan counseling.

Student Business Services Brochure [PDF]
Sexual Assault and Violence Prevention Resource Center (SARC)
SARC offers workshops on violence prevention for the entire UCSD campus and provides free and confidential services for students impacted by violence, with a focus on survivors of sexual assault, dating violence, and stalking.



SARC Flyer

 [PDF]
UC San Diego Libraries
The UCSD Libraries include 9 unique libraries, all with special services. Through the Libraries, you can gain access to tons of information you won't find anywhere else. Your UCSD ID card serves as your library card.



Library Navigator

 [PDF]

UCSD Libraries Website to get the most up-to-date information on services and hours (including special hours during Finals Week).
Women's Resource Center
The Women's Center is a space in which people work collaboratively to foster the educational, professional, and personal development of diverse groups of women.  The Center provides education and support to all members of UCSD regarding gender issues, with the goal of promoting an inclusive and equitable campus community.