In the fall of 1970, Thurgood Marshall College was named Third College and enrolled its first students. The Marshall College Community of students, faculty, administrators, and alumni will devote the 2020-21 academic year to a commemoration of the 50th Anniversary of the College by celebrating its history, evaluating its present, and envisioning how Marshall College can best achieve its Mission, goals, and commitment to preparing scholars and citizens for an increasingly complex and dynamic future. Marshall College invites all members of UC San Diego and the public to join us in this year-long venture of celebration, introspection, and envisioning the future.
Events 
Join us for these upcoming events!
Winter 2021

ThurGOOD Reads Book Club Winter 2021: Are Prisons Obsolete?

Join the Cross Cultural Center and Thurgood Marshall College for bi-weekly reading and discussions lead by staff for the entire UC San Diego community- staff, students, alumni and faculty. In alignment with the Marshall College 50th anniversary theme for the quarter, Acknowledging Our Present, we will read and discuss Angela Davis' book Are Prisons Obsolete in an effort to increase awareness and action around the present carceral system in the United States of America.

Register Here!

Wednesday, January 20 at 4pm PT: Alumni 101: Scholar & Citizen in Action for Justice & Equitable Futures 

What does justice look like? How do we work towards equitable outcomes for all? Let's imagine a future that centers these values for folks in public health, education and civic engagement. Join us for a conversation with alumni who've made scholar & citizen work their life's work.

 Register Here!

Ongoing:

Marshall x MOM Coffee Special (ask for details at the Muir Woods Coffee House)

)

Community Reflection Videos 

R

e

flect on your knowledge of our history, your experiences and your hopes for the future of Marshall College by submitting a brief video message.
Virtual Yearbook 

Help us tell the story of LZC/Third/Marshall College by contributing to our Virtual Yearbook today!
View recordings of past events HERE
Fall 2020: Grounded in the Past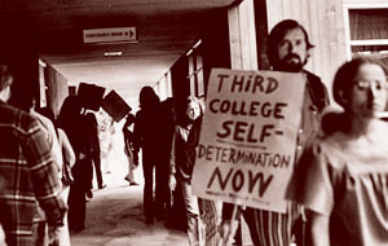 Read the Original Lumumba Zapata Student Demands of 1969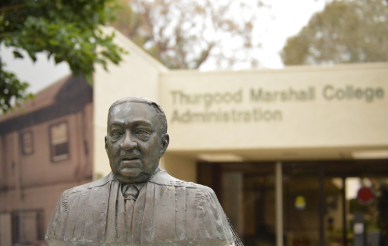 1993 Dedication Ceremony of Thurgood Marshall College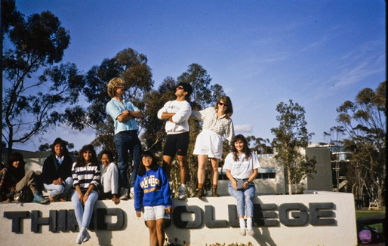 Visit Our Digital Collections at the Library Archives
Virtual Yearbook
Help tell the story of Third/Marshall College by contributing to our virtual yearbook!