In the fall of 1970, Thurgood Marshall College was named Third College and enrolled its first students. The Marshall College Community of students, faculty, administrators, and alumni will devote the 2020-21 academic year to a commemoration of the 50th Anniversary of the College by celebrating its history, evaluating its present, and envisioning how Marshall College can best achieve its Mission, goals, and commitment to preparing scholars and citizens for an increasingly complex and dynamic future. Marshall College invites all members of UC San Diego and the public to join us in this year-long venture of celebration, introspection, and envisioning the future.
SPRING 2021: IMAGINING OUR FUTURE
Join us for these upcoming events!
ThurGOOD READS Spring 2021: The Purpose of Power: How We Come Together When We Fall Apart by Alicia Garza  (TMC Alum) A quarterly discussion based reading community to grapple with big ideas. The reading discussion in which a team of staff and student facilitators will lead discussions around a selected book/set of readings or multi-media package. The purpose of the ongoing series is to foster engagement between Marshall staff, faculty, alumni, and students, to explore themes related to our college mission and purpose, and to "dive deeper" into the work of scholars, artists, and activists who are linked to or visiting Marshall College and/or the UC San Diego campus. Spring Quarter's sessions will be h

osted by the

Black Resource Center

+ Marshall College. 

 Learn More
May 14-15, 2021: Learning/Teaching for Justice Conference The inaugural Teaching/Learning for Justice Conference (or LTJC) in celebration of Marshall College's 50th Anniversary will take place on May 14-15, 2021. We are proud to share that we have almost 30 sessions planned, a majority proposed and facilitated by current students or alumni, exploring what learning and teaching for social change look like within and beyond the classroom. We are also featuring a keynote on Friday, May 14 at 10am PT by Saeed Jones, author of the recent memoir How We Fight for Our Lives that lyrically traces his coming of age as a young, Black, gay man from the South. We invite the UC San Diego campus community to join us for this 2-day event! Learn More
Ongoing

Marshall x MOM Coffee Special (ask for details at the Muir Woods Coffee House)

)

Community Reflection Videos 

R

e

flect on your knowledge of our history, your experiences and your hopes for the future of Marshall College by submitting a brief video message.
Virtual Yearbook 

Help us tell the story of LZC/Third/Marshall College by contributing to our Virtual Yearbook today!
View recordings of past events HERE
Fall 2020: Grounded in the Past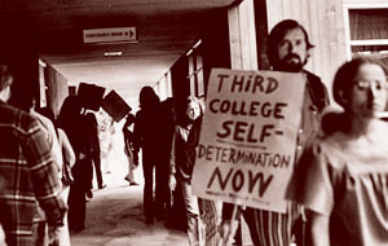 Read the Original Lumumba Zapata Student Demands of 1969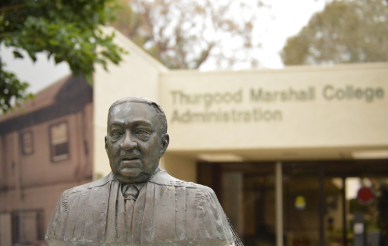 1993 Dedication Ceremony of Thurgood Marshall College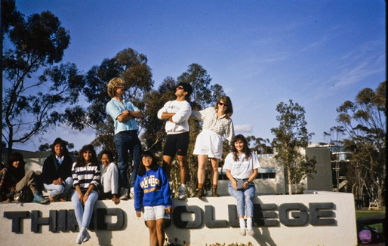 Visit Our Digital Collections at the Library Archives
Virtual Yearbook
Help tell the story of Third/Marshall College by contributing to our virtual yearbook!