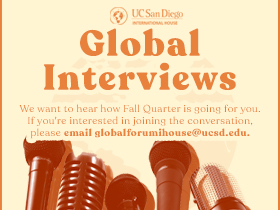 Global Interviews
Global Interviews are back! Whether you're on campus, at home, or abroad, we want to hear how Fall Quarter is going for you. If you're interested in sharing your story or joining the conversation, please email globalforumihouse@ucsd.edu for more details, and make sure to check out last year's Global Interviews on Facebook page.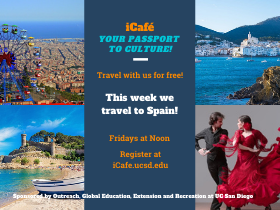 iCafe - Your Passport to Culture: Spain
Fridays | 12 - 1 pm (PST)
Register Here

Global Education has partnered with Outreach International for students to share their culture, Extension International to host Travel Trivia, and Recreation to share our Global Playground. You are invited to share a recipe in the Cook Club (and receive a free apron!). #iCafé! No passport, no face mask, no cost!