Marshall College News
Marshall Week 2018!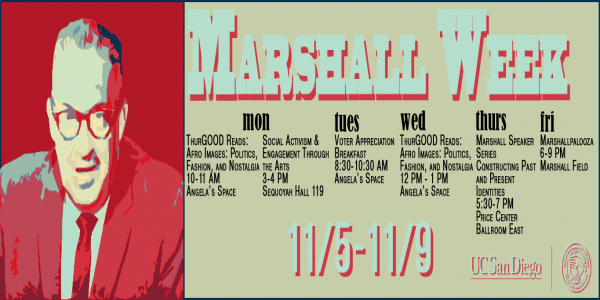 Mark your calendars! Marshall Week begins on Monday, November 5! Come celebrate the life and history of Marshall College and our college namesake, Justice Thurgood Marshall (1908-1993), through our week-long program of FREE events.
Events include:
---
TRELS Program
Sponsored by the 6 UC San Diego Colleges, the Triton Research and Experiential Learning Scholars (TRELS) Program is designed to increase the number of students involved in mentored projects with faculty (including research, art, community involvement, etc.). There are 10 scholarships available to Marshall students through this program. Application deadline is November 1st!
---
New Winter Quarter Transfer Year Experience Course
A Transfer Year Experience course will be offered in Winter quarter 2019. The course will be titled "MUIR 2," but it will absolutely be open to all Transfer Students across every college. The course will be taught by Professor K. Wayne Yang, Professor of Ethnic Studies and Provost at Muir College. The curriculum will be similar to our Fall-quarter TYE courses, but adapted for students in their 2nd quarter. For those Transfer Students who wanted to enroll in TYE but dropped due to scheduling conflicts, waitlists, etc. we invite you to our community! Enrollment is limited to 45 students.
For more information, visit fye.ucsd.edu or email fye@ucsd.edu
---
Questions About Enrollment?
Marshall College students can contact an Academic Advisor through the Virtual Advising Center (http://vac.ucsd.edu/) To learn more about how to use the VAC and its key features, please watch our Video Tutorial.  The Advising Office is located in the Thurgood Marshall Administration Building.
Students should check their @ucsd email accounts, as well as postings on TritonLink (https://students.ucsd.edu), to make sure they don't miss any deadlines or important announcements. 
---