Thurgood Marshall College Honors Program
The Thurgood Marshall College Honors Program is designed to address one of the greatest responsibilities and challenges of public higher education: the education of students of exceptionally high academic achievement. The program provides the organization and the environment within which students are encouraged to pursue individual excellence.
Honors activities and events are designed to introduce Thurgood Marshall students to the excitement of pioneering research and innovative scholarship in all disciplines at UC San Diego and to create opportunities for discussion on public issues with locally and nationally known figures. These opportunities occur through quarterly honors seminars (TMC 20) open to TMC honors students as well as various events hosted by the TMC Honors Program and Honors Council. 
Honors Spotlight
Check back soon for our monthly student spotlight.
To become eligible to participate in the TMC Honors Program, students must meet the following criteria:
| Incoming Freshmen Students: | Continuing Students: |
| --- | --- |
| 3.8 High School GPA or higher | Completed a minimum of 12 graded units |
| Math SAT score of 700 or higher | Cumulative UC GPA of 3.8 or higher |
| Evidence-Based Reading & Writing SAT score of 700 or higher | |
*Incoming transfer students are eligible for the TMC Honors program following their first quarter at UC San Diego.
All honors students must maintain a 3.50 or better cumulative GPA in order to continue their eligibility for the program.  Students are monitored on a quarterly basis and automatically notified of any change to their status. 
Spring 2019
Title: Trigger Warning THIS!
Instructor: Dr. Emily Johnston
Day/Time: Wednesday, 2-3PM
Location: TMCA 127
Course Description:
Trigger warnings, we encounter them everywhere: those preemptive "cautions" that we're about to see/hear something that could distress us. But do these warnings serve the purpose they're meant to serve? In other words, do they actually help us make informed decisions about whether or not to keep watching/listening? The answer is complicated. Some claim that trigger warnings inhibit free expression, while others say they coddle, encouraging people with PTSD to avoid difficult material and consequently, not work through their trauma. In this seminar, we'll read and discuss the literature on trigger warnings in higher education to define what trigger warnings are, and to hear what people on multiple sides of the argument are saying. We'll talk about where trigger warnings do and do not appear in our daily lives—particularly contexts in Marshall College and on our campus more broadly where we may be asked to engage in conversations around racism, sexism, homophobia and other forms of structural oppression. We'll scavenger hunt for the presence (and absence) of trigger warnings in our classrooms, dorms and other campus spaces, and together, we'll design a creative intervention that reflects our class's views on trigger warnings.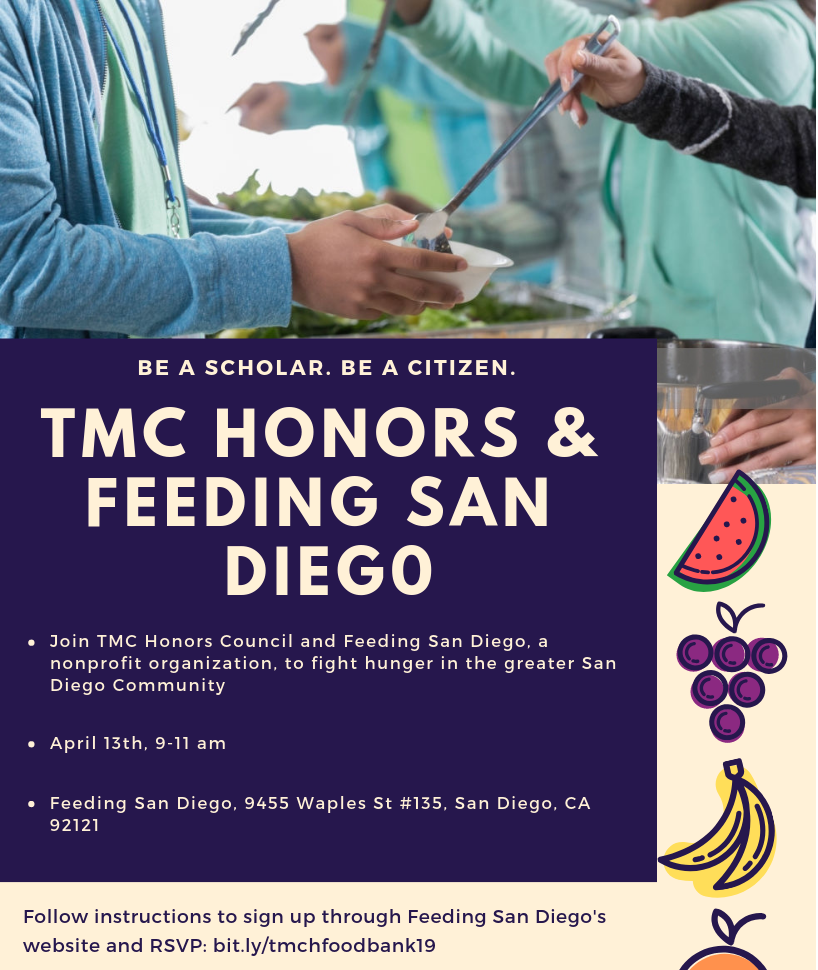 Honors Program Event: Food Sorting with Feeding San Diego
Saturday, April 13th from 9:00 AM - 11:00 AM
Event Location:
Feeding San Diego
9455 Waples St., #135
San Diego, CA 92121
Join the Marshall College Honors Council and Feeding San Diego to fight hunger in the Greater San Diego Community.  *Please note: All volunteers must wear closed-toe shoes*
To sign up:
RSVP with the Honors Council at: bit.ly/tmchfoodbank19
Visit vhub.at/fsd and 'Create an Account'. If you have an account, Sign In.
Once you are logged-in, enter the following Join Code by clicking on the link in the top right corner: 2242
Select our group volunteer shift on Saturday, April 13th from 9-11 AM from the Calendar, then click the 'Sign Up' button.
In addition to membership in the TMC Honors Program, students may also qualify for participation in various campus-wide honors programs as well as eligibility for honors awards at graduation.  Please see Honors Distinction for additional information. 
The Thurgood Marshall College Honors Council serves to address the needs and advance the interests of students within the Thurgood Marshall College Honors Program through meaningful programming and opportunities centered on the college mission of "Scholar & Citizen".  Council members assist in planning honors events that connect high achieving students to faculty of diverse disciplines, locally and nationally recognized public figures, community organizations, and outreach both inside and outside the classroom.
Students interested in serving on the Honors Council are welcome to apply during the spring quarter.   Students must be current Thurgood Marshall College honors students in good academic standing with an interest in serving the Marshall College community through the Honors Program. 
Contact tmchonors@ucsd.edu for more information.