Giving to Thurgood Marshall College
Thank you for your interest in giving back to Marshall College. We thank our generous alumni, faculty, staff, parents and friends who continue to support our mission of helping students from all majors and disciplines become engaged citizens who are committed to serving society.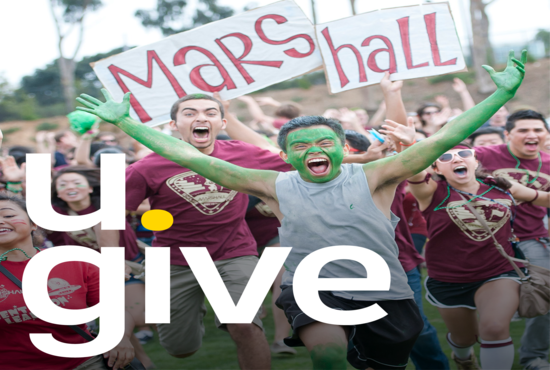 Marshall College depends on the generosity of our alumni, parents, and friends to support the activities and programs that have made the college a special place for generations of UC San Diego students.  We rely on gifts to maintain and strengthen our student's quality of education at UC San Diego—both inside and outside of the classroom—as well as the overall college experience. Our college has a long history of bringing distinguished guests to campus for both formal and personal interaction with our students. Guests include; two Nobel laureates, Pulitzer winners, Oscar nominated film directors, award winning performers, and iconic keynote speakers to help broaden our students' perspectives. Marshall College believes that dynamic learning outside of the classroom and giving back to our community is essential to our student's education.
The following are a few examples of the ways in which your gift impacts our students' experience:
Student Life - Cultural Celebration, MarshallPalooza, and a host of other social and cultural opportunities
Support student organizations such as; Student Council, Judicial Board, Leadership Committee, Marshall College Television (TMTV), and Marshall College Activities Committee
Leadership programs – Students gain professional skills that will serve them now and in their future careers
Tutoring and mentoring services – Access to academic support helps to ensure our students excel in their courses
Community Programs – Public service projects allow students to apply their skills and knowledge to give back to the community. The Partnership School Program allows students to go into inner city schools and work with historically under-served communities for hands on experience
Art and cultural activities – Award-winning arts performances, famed keynote speakers, public art installations, and cultural celebrations help to broaden our students' perspectives 
UC San Diego is recognized as one of the top 10 public universities in the nation. However, with the decline in funding from the state of California, support from donors like you is more important than ever to ensure that our students receive an outstanding and well-rounded education.
Please, contact the Provost Office with any questions 858-534-4004 or tmcprovost@ucsd.edu
Marshall College Scholarships help bridge the gap between college expenses and financial aid. Scholarship is often the deciding factor for whether a student attends UC San Diego, or even if a college-bound student can attend college at all. You can transform a talented student's life by making a scholarship gift of any size.