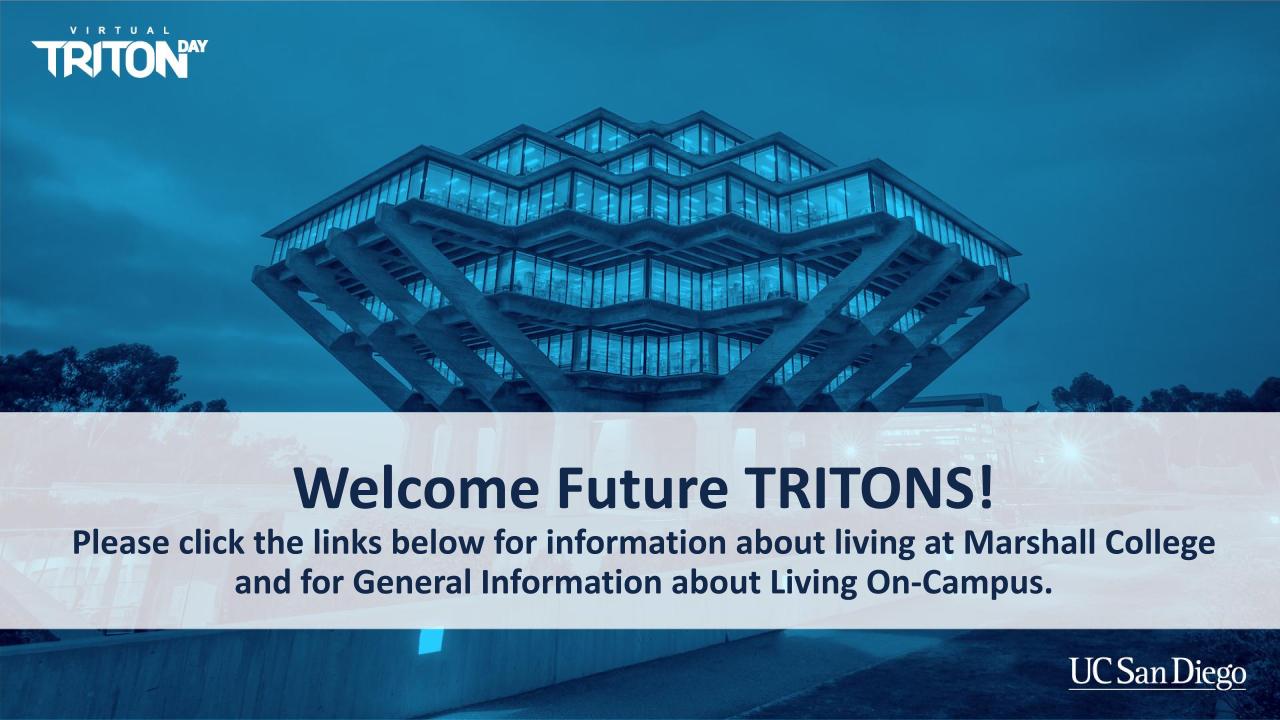 Triton Day 2021 Resources 
Thurgood Marshall College Residential Life Triton Day 2021 
Welcome to the Thurgood Marshall College Residential Family
...and welcome to your new home where living, learning and fun will be part of the community that you and your neighbors create together. Moving on-campus is an essential part of your UCSD experience because it's more than just a place to study, eat, and sleep. Here, you'll become a unique part of a diverse community, meeting folks from all walks of life while building quality relationships.

The Residential Life staff at Marshall College (including 27 Resident Assistants- RAs) is committed to developing a safe and positive living-learning residential community. The RAs plan a variety of activities ranging from social events to community service programs. We encourage you to make the most of your time here by becoming an active community member!
In order to ensure that everyone has an equal opportunity to achieve academic success, you must adhere to community guidelines that are important elements of group living. Inherent in these guidelines is our expectation that you are able to respect one another's rights. This includes understanding and modeling the UCSD Principles of Community (and abiding by State law and University Policies).
Throughout our site, you will learn all about living in the Marshall College community.
Want to know more about our mission and philosophy, "know yourself, check yourself, be yourself"? Check it out!
Another place you will find useful info is Housing Dining Hospitality (HDH). If you have any questions that you cannot find answers to online, feel free to give us a ring at our main office (858)534-4340. Otherwise, sit back and click around, and enjoy!
Sincerely,

Residential Life Staff 
UCSD Important Contacts
Marshall Residential Life Hours
Monday to Friday 8:00 AM - 6:00 PM
Saturday to Sunday 9:00 AM - 1:00 PM
(858) 534-4340

RA on duty (after hours)
(858) 945-7154

Counseling & Psychological Services
(858) 534-3755

UCSD Police *
(858) 534-HELP (4357)

Triton Cash Triton Card Accounts:
(858) 534-7587

Student Mail Services
(858) 534-1164

Emergency Alert and Status*
(888) 308-8273 (308-UCSD)
http://www.ucsd.edu/emergency/

Maintenance & Custodial Services
(858) 534-2600

Housing, Dining & Hospitality (HDH)
(858) 534-4010


*We recommend all students store (858) 534-HELP (4357) UCSD Police on your cell phones for emergencies, and register for campus emergency alerts.