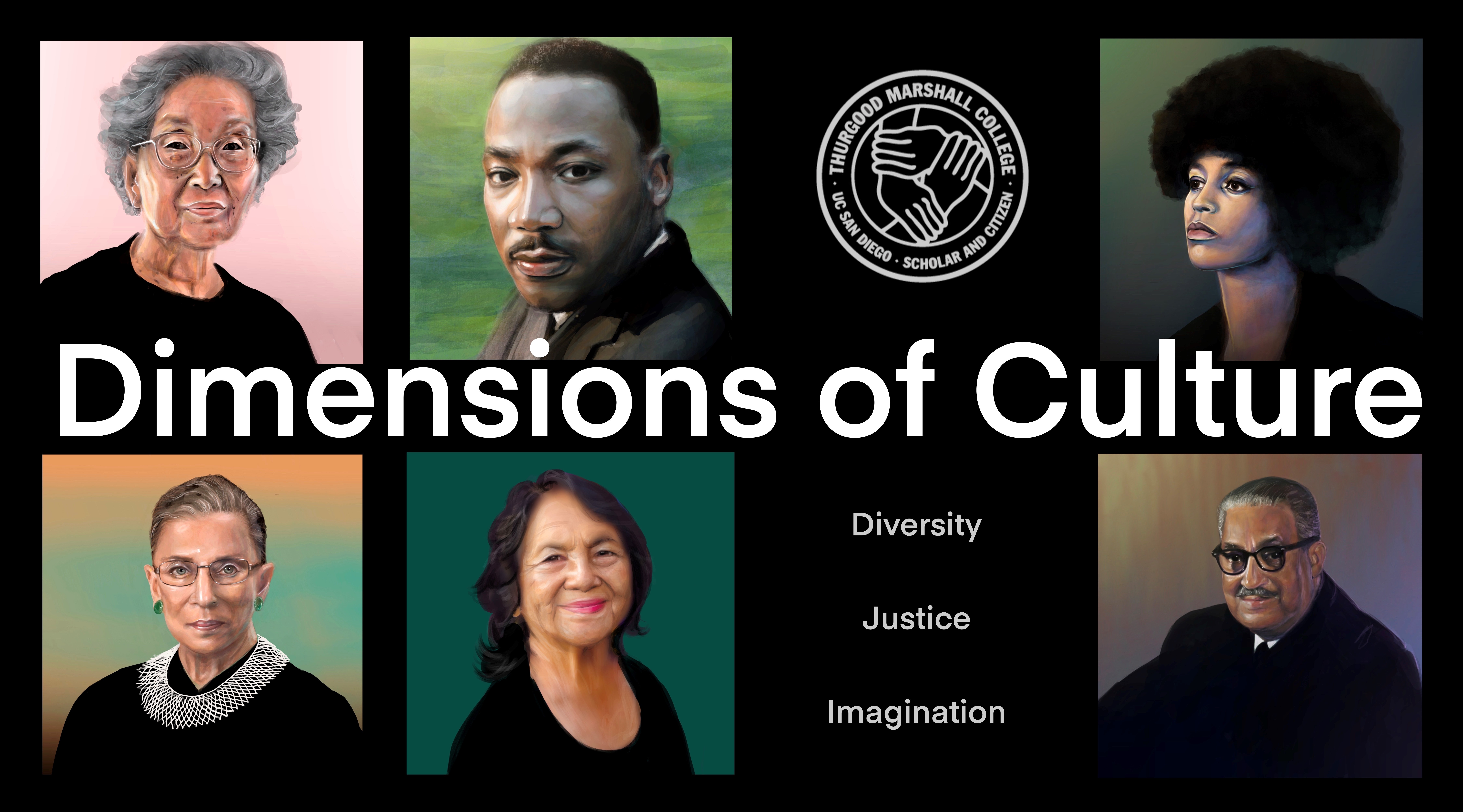 Dimensions of Culture Program
Overview
The Dimensions of Culture Program (or DOC) constitutes the core of Thurgood Marshall College's general education requirement.  It is a required three-quarter sequence that provides a unified academic experience for all incoming students.  DOC courses are grounded in Marshall College's commitment to social justice, while meeting the UC system requirement that students demonstrate proficiency in writing.  Each quarter, students attend both large-class lectures taught by DOC faculty and small discussion section meetings guided by Teaching Assistants.
For information about DOC 100D, please see "Upper-Division DOC Courses" at left.
Although each of UCSD's seven colleges houses its own unique writing program, they share common goals. Among these are the learning outcomes reported to the Western Association of Schools and Colleges (WASC) for UCSD's accreditation. 
DOC students are expected to: 
develop and refine critical thinking skills
develop an ability to read, understand, and analyze diverse genres and formats
revise and refine written communication on the levels of argument, evidence, grammar, style, etc.
learn and follow a proper citation protocol
Successful completion of the lower-division DOC sequence (1, 2, and 3) satisfies the University of California Writing Requirement, as well as part of the Thurgood Marshall College General Education requirements.  Prospective students must satisfy the University's Entry Level Writing Requirement (formerly "Subject A") before enrolling in DOC 2 or DOC 3.
The Dimensions of Culture Program employs graduate students as part-time Teaching Assistants.  Applications are accepted through the Instructional Assistant Data Management System.  For more information, see:
http://ugcbo.ucsd.edu/ta/