Office of the Provost
Provost Leslie Carver
As Provost, Dr. Carver serves as the academic and administrative head of the college and is responsible for the oversight of all educational affairs and activities. She is also a faculty member in the Psychology Department and her research focuses primarily on the development of the brain basis of social cognition and memory in infancy and early childhood.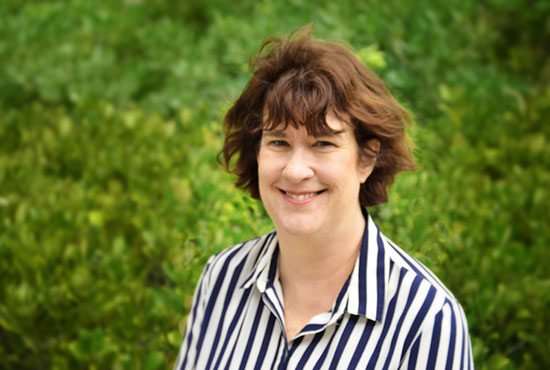 A Message from Provost Leslie Carver
I am thrilled to welcome all new and continuing students to Thurgood Marshall College.  The Marshall College staff and I are passionate about our mission of promoting cultural responsiveness, social equality, and civic justice, and we hope you will be as well. We encourage you to take advantage of the many opportunities Marshall College offers to contribute to this mission. Our goal at Marshall is to provide you with the tools you will need to cultivate and define the world you will soon inherit.  At Marshall College, we are committed not only to our mission but also to our motto, "The Student as Scholar & Citizen," by offering our students an exceptional and well-rounded education. The diverse intellectual, social, and artistic community of students and staff at Marshall College is our greatest source of pride. In addition to our Scholar and Citizen mission, Marshall also has a less official identity that drives everything we do.  We aim for Marshall to be a family that supports, encourages, and provides for our students in every way possible. We hope you will thrive here and that your Marshall Family will provide a great environment for you for the next four years. 
This year, we are experiencing an unprecedented situation, with the global pandemic, coupled with recent racist incidents and unrest. In this atmosphere, Marshall is also celebrating our 50th Anniversary.  We have many plans for ways for you to engage, remotely for now, and in person later in the year.  We plan to revisit the history of our college, to reflect on where we have achieved the goals of students who were the driving force of our, and look to ways we can be called to action for the future.  Please know that the Marshall staff and faculty are still here to support you, and to engage you in our celebrations, even though those need to be remote for now.  Please reach out to me, or to the rest of the Marshall leadership team if there is anything we can do to support you in these times. In addition to my email (see below), I will be holding community check-in hours weekly on Instagram Live. Stay tuned for more information about those. I  am looking forward to meeting (remotely for now, and hopefully soon in person) and working with as many of you as possible. 
Dr. Leslie Carver (tmcprovost@ucsd.edu)
Provost Thurgood Marshall College
Professor of Psychology