The 2021 Marshall College Commencement Ceremony will be held on Sunday, June 13, 2021 at 9am (Pacific Time). Graduates may attend ceremonies in person, with no more than two guests. All participants should be fully vaccinated or have had a negative COVID-19 test within 24 to 72 hours prior to the ceremony. Participants will be required to complete a symptom screening upon entry. All health and safety measures will be observed, based on the Centers for Disease Control and Prevention, state and county guidelines for travel and gatherings, including continuous masking. For graduates not able to participate in person, Commencement ceremonies will be offered online via livestream for all graduates, families and friends. REGISTER HERE
In the spirit of working together for change, Marshall College alumna, principal at Black Futures Lab and co-founder of the Black Lives Matter Global Network, Alicia Garza '02, will deliver the keynote address during our commencement ceremonies June 12-13, 2021. MORE INFO
Please continue to check COMMENCEMENT.UCSD.EDU for the latest updates on our 2021 commencement ceremonies! Eligible students will receive an email with additional information on registration and logistics. Regalia is now available through the UC SAN DIEGO BOOKSTORE. 
For general questions regarding UC San Diego's 2021 commencement ceremonies, visit commencement.ucsd.edu, email commencement@ucsd.edu or complete this form.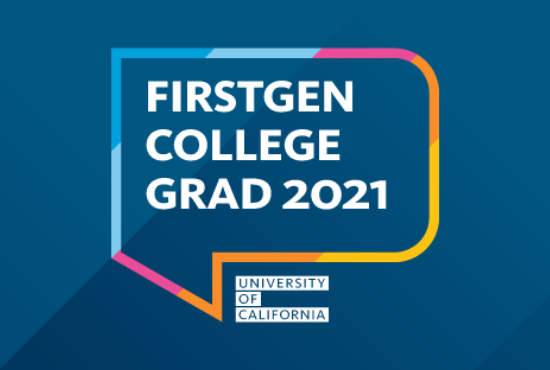 SUPPORTING CLASS OF 2021 FIRST-GEN GRADUATES
Learn more about UC San Diego's virtual initiative to affirm, congratulate and celebrate our First-Generation Tritons. #FirstGenUC #NewUCGrad #Classof2021
Official graduation and participating in the Commencement Ceremony are two seperate things. Make sure to review all important graduation information here.
Graduation is the term used to describe when a student has completed all requirements and his/her degree has been officially posted to the academic record. Students must complete a Degree and Diploma Application (DDA) to file for graduation. 
Commencement is the annual ceremony in which eligible students participate. Participation in the commencement ceremony does not constitute official graduation from the University.
Any student wishing to participate in the June commencement ceremony must have completed 135 units by the end of Winter Quarter. Participation in the commencement ceremony does not constitute official graduation from the university.
Many students have also given their "MarStoles" to special supporters whom they felt had been key contributors in the achievement of college graduation. This stole will be worn over your regalia to showcase your pride in Marshall College.
Class of 2021: Be sure to check your email for our Senior Marshall Memos Newsletter every Thursday that outlines how to obtain your FREE MarStole in honor of the college's 50th Anniversary!
Marshall College Awards
Marshall College, in partnership with a number of UC San Diego departments and organizations, presents several awards to students who show dedication to their studies and a commitment to the activities and mission of Marshall College.
Provost's Academic Excellence Award
Thurgood Marshall Award of Academic Distinction
Academic Advising Leadership Award
Outstanding Faculty Award
Outstanding Senior Award

Allan Havis Scholar, Citizen, and Distinguished Artist Award
Leadership and Service Awards
In addition, the following Thurgood Marshall College Leadership and Service Awards are designed to recognize students whose undergraduate careers have included distinguished accomplishments in leadership, service, involvement, and academic achievement.
Dr. Joseph Watson Provost Award for Exemplary Leadership and Community Service
Dean's Award for Leadership and Service
Alumni Association Outstanding Senior Award
Transfer Leadership Award
Oceanids Service and Leadership Award
Distinguished Senior Service Award
Helpful Links