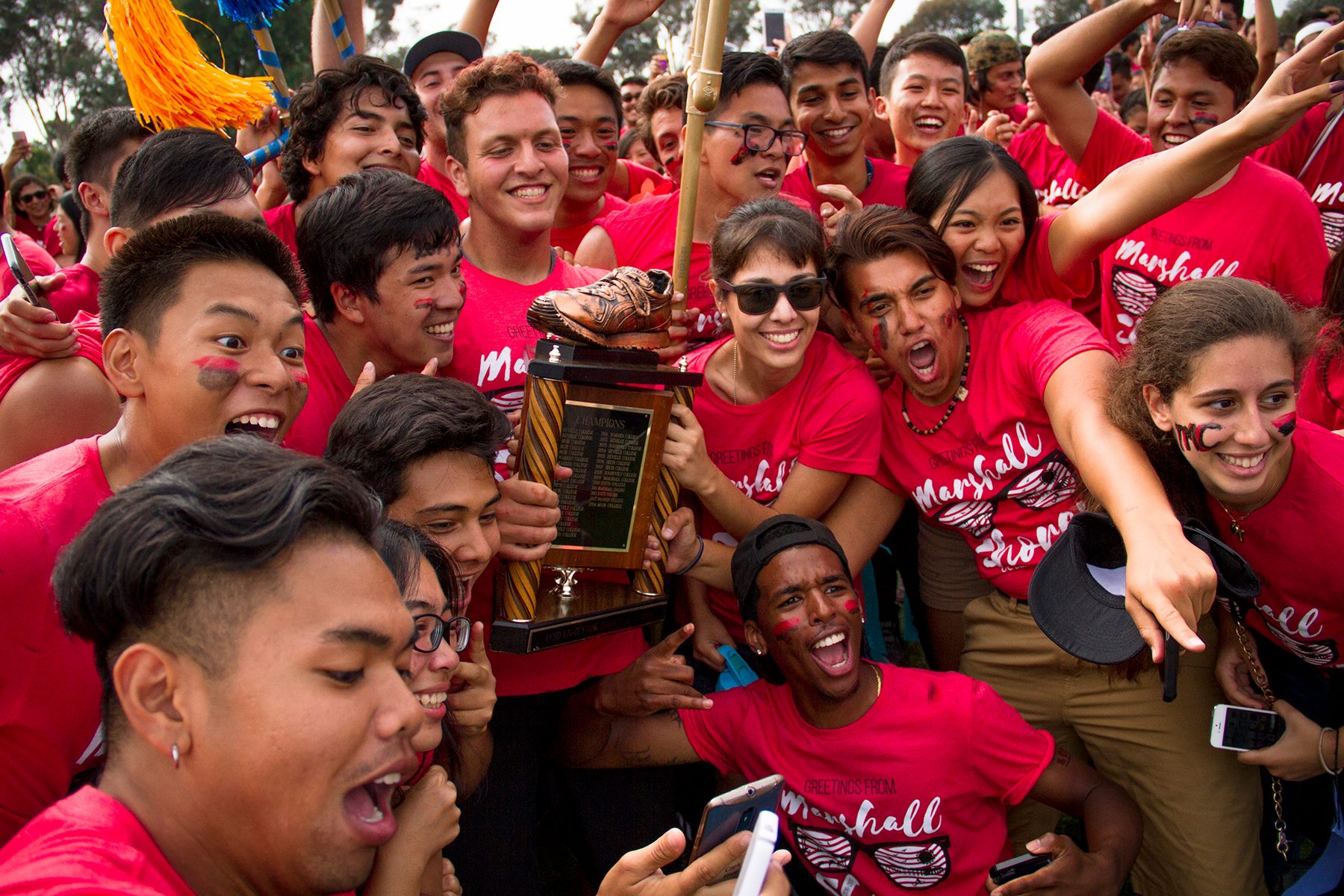 Welcome to the Marshall College Family...
...and welcome to your life as a student at Marshall College! We are here to support you in your development as a student and as an individual by providing a diverse array of involvement opportunities within the college community and beyond. Whether you commute or reside on campus, your engagement with Marshall will enable you to meet new people, boost your intellectual abilities, and prepare you for leadership as a Scholar and Citizen.
---
Student Affairs at Thurgood Marshall College
Marshall College has multiple units dedicated to your success as a student. The diverse and talented staff in Student Affairs are committed to creating meaningful, shared student experiences and building community. We are guided in our work by the following vision, mission, and values.
 
Vision
Thurgood Marshall College Student Affairs creates transformative co-curricular experiences in which students feel supported, challenged, connected, and called to serve their communities--locally and globally--as scholars and citizens.
 
Mission
Thurgood Marshall College Student Affairs supports the growth, needs, and well-being of our diverse students, provides meaningful co-curricular engagement and leadership opportunities, and builds inclusive communities in which all students can develop as scholars and citizens.
 
Values
As staff members of Thurgood Marshall College Student Affairs, we serve students and our mission guided by the following values:

Authenticity. We model walking our talk and being real in our interactions, strive for transparency, and align decision-making with our individual and shared Thurgood Marshall College Student Affairs values.

Inclusion. We value the College's legacy of resistance, social justice, and inclusion. We work to build equity among individuals and groups, and strive for a Thurgood Marshall community that truly reflects and includes all its members.

Growth through Challenge. True to our profession, we support students in their finest as well as in their most difficult moments, and challenge students to grow, learn, and develop as people, leaders, scholars, and citizens.

Collaboration. We work closely with each other, our students, UC San Diego colleagues, and community partners to create the best possible Thurgood Marshall College experience for all of us.

Connectedness. We are engaged members of the same Thurgood Marshall College and UC San Diego communities we strive to build, support, and strengthen. We strive to build meaningful, judgment-free connections and relationships with students and with each other.
---
 Stay updated with Marshall News and Events:
---
"We will only attain freedom if we learn to appreciate what is different and muster the courage to discover what is fundamentally the same."
—Thurgood Marshall